While there are many amazing aspects that draw visitors to the New River Valley, one that stands out is the brewery/winery scene. Breathtaking views paired with award-winning, unique drinks are not hard to find in our region. Here are just a few of the breweries and wineries in our area that you must visit if you haven't already.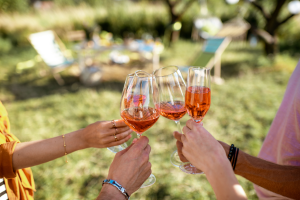 Chateau Morrisette
Located in the mountains of Floyd, this classic winery is one that people drive hours to visit. Offering a wide variety of wines, you're guaranteed to find something you like in their tasting room. The grounds offer stunning views, where you can enjoy a glass of wine outside on their patio or in their indoor seating section. This is a must-visit for dog lovers, as Chateau Morrisette is known as "the winery dogs built." Dogs are not only welcome on their winery courtyard outside, but also indoors in their tasting room.
Eastern Divide Brewing Company
Craft beer lovers unite – Blacksburg features a brewery that is committed to fresh styles and flavors. Eastern Divide Brewing Company is known for excellent service, a clean facility and even better drinks. Their menu changes seasonally, so even regulars can experience new tastes often. Food is also available, including Sunday brunch with specialty drinks.
Whitebarrel Winery
A tucked away gem in Christiansburg, Whitebarrel Winery is the perfect place to catch up with friends or take a date. This Virginia farm winery offers the perfect escape to relax while drinking quality wine. After taking a little break, Whitebarrel has recently reopened its doors while implementing new policies during the pandemic. Cozy up by the fire pit or take a seat inside – you will enjoy the environment wherever you are.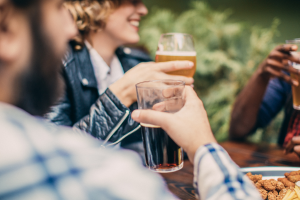 Rising Silo Brewery
One of the only farm breweries in Southwest Virginia, Rising Silo has become a local favorite for craft beer. Unique in nature, Rising Silo operates within a shared space that includes a working farm, Glade Road Growing, among other groups. Produce from Glade Road Growing and other local farms are incorporated into their beers, another unique factor to experience. Kick back and relax with friends while taking in the farm scenery (animals included!). 
Beliveau Farm Winery
Just a short drive from Downtown Blacksburg, Beliveau Farm Winery rests on 165 acres of pure mountain beauty. What started out as a dream for owners Joyce and Yvan Beliveau, has now transformed into a premier wedding venue, bed and breakfast and award-winning winery. Another unique aspect of Beliveau is the lavender onsite, with an annual lavender event celebrated each year during the summer. You'll want to check their events page often, as Beliveau always has something exciting going on at the winery.
While most places include indoor seating, outdoor seating is about to be a lot more enjoyable as the season changes in the next couple weeks. Grab a group of friends or your significant other and make plans to visit one of our many incredible wineries/breweries this Spring.